If there's one thing kids might love more than video games, it's the movies. From animators like Disney and Pixar to Hollywood production companies that seem to have inside knowledge on the sights and sounds kids love most, movies resonate with kids in a truly special way.
When young children see someone like them pursuing their interests in an outsized way that's fun and adventurous, it stirs up interest and a world of possibilities. While there's a difference between RP4K's sessions that teach coding for kids and teenagers and the animated world of inventors and robots described below, these compelling fictional worlds motivate kids to dream and eventually turn those dreams into concrete realities.
To get your kids more excited about coding, let's look at a few films featuring characters and plots about robots, space, inventors — in other words, things requiring STEM skills.
WALL-E
Pixar's 2008 computer-animated film WALL-E features a garbage-cleaning robot who accidentally goes on a space adventure to save the world. Taking place in a future where the Earth is uninhabitable due to pollution, WALL-E falls in love with a probe named EVE sent by a starship, and he follows his love across the galaxy, saving the fate of Earth in the process.
WALL-E is considered one of Pixar's best movies for its beautiful animation, thoughtful writing, voice acting, and its intense stretches of minimal dialogue that still manage to keep the viewer's eyes glued to the screen.
Transcending movies for kids, it's not uncommon to find WALL-E listed among the top 100 movies ever made.
Jingle Jangle
This Walt Disney Animation Studios production from 2007 is about an eccentric 12-year-old inventor named Lewis who grew up in an orphanage and created a memory scanning machine to help him find his birth parents.
Lewis meets an older boy claiming to be a time cop from the future, who just so happens to have a time machine. Together, they leap into the year 2037. Like all movies involving time travel, things get fun and hectic!
Without giving any spoilers away, this is a film about love, family, belonging, and, of course, inventing. Kids watching it will feel excited by the sense of possibilities opened up by these resourceful young inventors.
Here are some great coding games for kids that may be useful for any parent who doesn't have a time machine for their child to play with.
CodeGirl
CodeGirl is a documentary from 2015 about high school-aged girls from around the world changing their societies through technology. Given that the global app market is worth well over $100 billion today, and at the time of filming was 80% male, it's clear that girls and women deserve to be more included.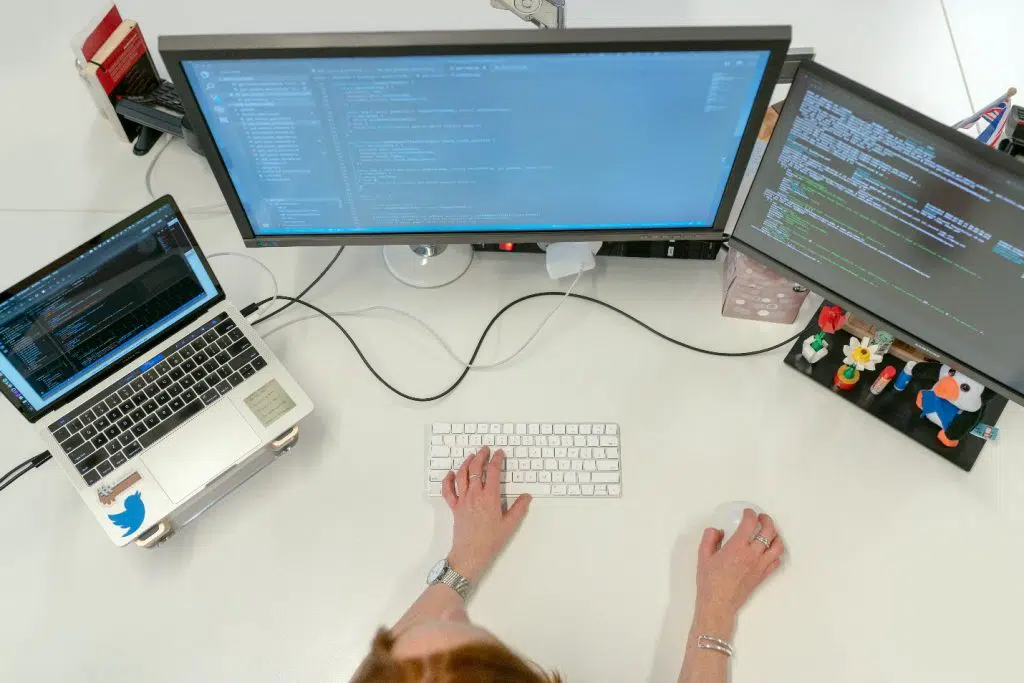 Credit: ThisisEngineering via Pexels
Aside from merely getting some of the huge sums of money involved, technology impacts our daily life in countless ways. The documentary emphasizes that women must have a central role in its creation.
RP4K believes strongly that coding for kids must include teaching young girls how to program, so they can go on to create the apps, programs, and video games women need and fix the industry's gender imbalance. The historical barriers that young girls and women faced developing STEM skills in school and the workplace have not disappeared. Watching a documentary about some of these challenges will hopefully inspire some real change.
Cloudy with a Chance of Meatballs
This 2009 computer-animated comedy from Sony is about an aspiring inventor named Flint who creates a machine that turns water into food. Unfortunately, the machine takes on a life of its own and begins to create food storms.
To save the world, Flint must destroy his machine. Of course, this is just a movie, and in the real world, taking online programming classes for kids leads to creations you don't need to destroy.
Cloudy with a Chance of Meatballs features the voices of well-known actors, like Bill Hader, James Caan, Andy Samberg, Neil Patrick Harris, and more.
Mr. Peabody and Sherman
This movie involves more time travel, but this time it features an anthropomorphic K9 inventor named Mr. Peabody and his adopted human 7-year-old son, Sherman. They go back to Paris in 1789, barely escaping from the guillotine during the French Revolution.
That is far from their only time-travelling adventure! Viewers also get to see King Tut in Ancient Egypt, Leonardo di Vinci in Renaissance Florence, where they find the great inventor's flying machine, and more.
P4K is here to teach coding games for kids and teenagers, but watching science-fiction cartoons where the inventions are more fanciful will definitely excite children and get them interested in learning to code.
Big Hero 6
If you're looking for an entertaining and wonderfully animated film about young robotics prodigies, Big Hero 6 is for you. A worldly film taking place in a fictional city called San Franskoyo — a combination of San Francisco and Tokyo — watch these inventors form a superhero team to combat a masked villain.
Big Hero 6 is the first of the franchise, not the sixth! It's also the first Disney movie to feature Marvel characters since it was made after the American conglomerate bought the rights to Marvel Comics.
A commercial and critical success, Big Hero 6 grossed over $657 million worldwide, making it 2014's highest-grossing animated film. Children have fired up sense of adventure, imagination, and play — movies like Big Hero 6 tap into this, and such films can serve to motivate them to turn on-screen magic into real-life achievements.
Learning how to code gives children a sense of agency in a world driven by technology by giving them the tools to build the websites, apps, platforms and video games of the future. Just like not every child who watches the Karate Kid will go on to be a martial arts expert, the movies described above are simply good fun for parents and kids, even if they aren't life-changing events.
But whether it's reading STEM books for kids or movies that encourage mental creativity and resourcefulness, it's always good to expose children to fun entertainment that models a STEM approach to problem-solving and inventions. If you watch the above movies with your children, don't be surprised if you sign up soon after for RP4K's free trial lesson and beyond as your child begins their journey in coding.