In many ways, the world of modern technology is all about the world of apps. Apps give users the functionality of a website but on a slick and portable format more suitable to smartphones, tablets, and sometimes even desktops.
There's an app for nearly every purpose you can imagine, and if there isn't one, there will be soon. There are coding apps for kids that are a great way to supplement any RP4K course, as it reinforces what's learned and gives children more chance to practice.
However, some apps are designed for different age groups and levels of experience. Let's check out some of the best coding apps for kids and teens.
Young Children
Scratch
Scratch is a drag-and-drop app that lets young children get a sense of what coding is like. It's used around the world, in and out of schools.
Kids can code interactive stories, games, and animations, then share them with their friends and classmates. Scratch works for Chrome and Android tablets.
Kodable
Kodable is meant for children as young as four, with a kindergarten-grade two program that teaches basic programming skills with drag-and-drop functionality. Children will learn critical thinking skills as they build levels and program characters.
Kids aged 7-10 can advance to learning JavaScript, which is a real programming language instead of an approximation "drag-and-drop" one that is more meant to convey what coding is like for beginners. Kodable makes it possible for children to code before they can even read!
Tynker
Tynker teaches kids aged 5-18 to develop coding skills by using drag-and-drop blocks of code to snap together. Children learn about video game design, web design, animation, and robotics.
The 60+ courses in this educational programming platform include Minecraft Modding, Minecraft Game Design, Python, and more. The program itself is based on HTML5 and JavaScript, and it can be used in a web browser or on tablets and smartphones.
RP4K teaches online programming for kids and teenagers, but these apps and others can be powerful ways to supplement what's taught in our sessions. Nothing replaces having an expert instructor you can speak to one-on-one about any questions you may have or difficulties that arise.
Kids and Teens
Cargo Bot
More of a puzzle game for coders, Cargo Bot lets children in grades 5-12 solve puzzles that help them learn to think like a coder. The games can be set to different levels of difficulty with six puzzles at each level, though the games are notoriously challenging.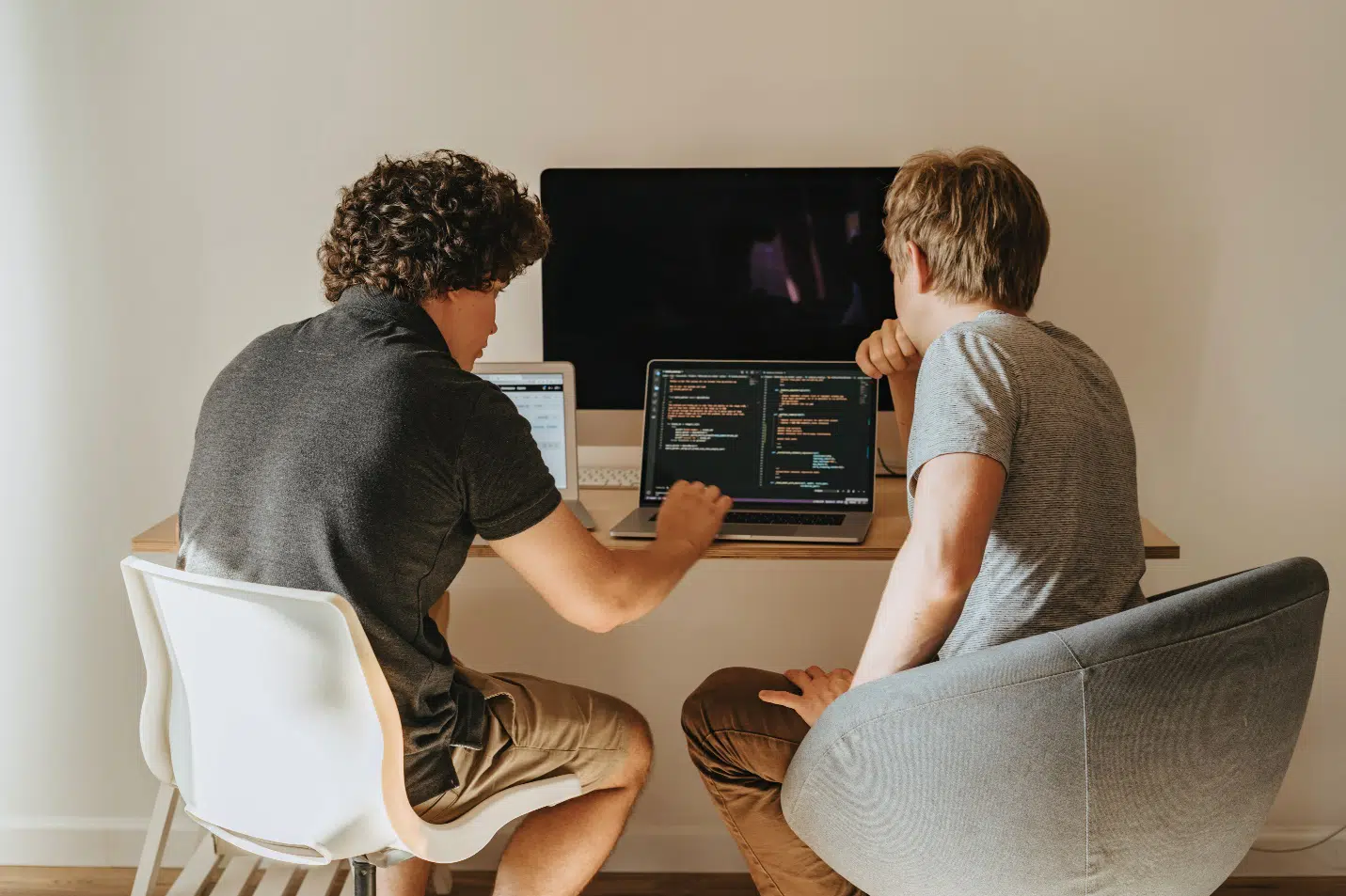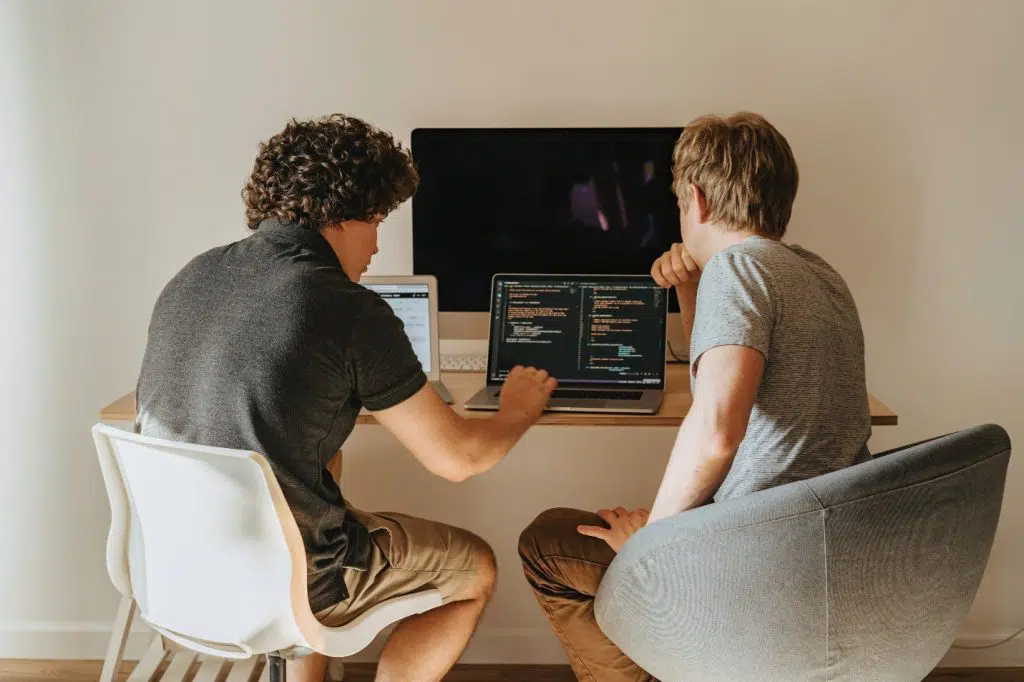 Credit: Olia via Pexels
Write programs to move a robotic arm, making it move crates into a configuration displayed on the screen. Move the crates in as few steps as possible, and a mistake along the way crashes the crane into a wall, meaning you need to start again, though kids have unlimited chances to solve each level.
Replay the puzzle to obtain a higher score. Cargo Bot was written using an iPad and can only be played on an iPhone or iPad. Apps like these are great because learning to code improves your mind and gives you skills employers look for, and they can really complement the course material at RP4K.
Codesters
Codesters is an online coding platform for kids, a learning management system for teachers, and built-out coding lessons to make instruction easier for educators. Older kids can do interactive projects using the coding language Python's unique drag-and-drop toolkit and engaging animations.
Everybody loves how coding games can teach you about programming, but they're also very fun in their own right!
Swift Playgrounds
Swift Playgrounds is a development environment and educational tool for a coding language called Swift, developed by Apple. It works on an iPad and macOS system.
Some new processes in the latest iteration make building apps easy. For example, there's a live version of the app you're building on the right of the code, which updates in real-time as the code changes, and you can see it in full-screen mode as well.
Plus, it's been reported that you'll be able to submit what you design to the App Store directly from within the Swift Playgrounds, sidestepping the notoriously long and involved process required for software distribution. Xcode is the language currently required to build Apps for the Apple ecosystem, which is famously hard to learn.
VidCode
VidCode teaches teens how to use JavaScript in engaging ways with support from the US Department of Education. A section for teachers allows them to help students learn to code, even if the teacher has no background in coding!
An array of lesson plans and curriculums give students and teachers of diverse backgrounds a fantastic entryway into learning to code. VidCode seeks to bridge the gap between the skills that future jobs require and the shortage of kids appropriately trained in coding.
From a societal perspective, parents and teachers want lessons that simplify how to learn to code for kids and teenagers because they will lead the tech future eventually. It's also crucial that girls and people from marginalized backgrounds learn how to code because not only does it make you qualify for high-paying jobs, but technology impacts society in countless ways and everybody needs to have a role in shaping it.
RP4K believes in helping everyone learn to code for these reasons and because we simply love to share our passion for programming and video games.
Parents looking for new ways to prepare their children for the future without sacrificing childhood fun have found success in online coding lessons. The expert instructors at RP4K skew on the young side, so they relate better to kids and remember very well how exciting it was to grow up playing video games. The apps above may help your child learn to code, but sign up for a free trial lesson with RP4K to kick their education in programming video games into high gear.