For many young computer enthusiasts, coding is more like a way of life than just a hobby. Other children take a bit longer to come around to coding. Whether your child is dying to weave coding into their daily life, or they could use a gentle STEM skills push, the holidays are an excellent opportunity to make coding more festive.
Here are a few activities you and your children can do at home to keep computer skills sharp over the holidays.
1. Create Your Own Animations
Children today are digital natives, and GIFs or short animations are one of the general online currencies they deal in every day. GIFs are essentially a drawing that moves for a few brief seconds.
RP4K is proud to teach kids as young as six how to use real coding languages, like Python, which can be used to create animations. Children can use the turtle module in Python to create their own animations to share with friends and family.
Draw a tree, a snowman, a star, a Magen David, or any seasonal symbol representing the spirit of the holidays in your home. RP4K always seeks to make learning coding online fun for kids, and using real coding programs that professionals use every day to spread festivities is one such method.
If this sounds like something your child may enjoy, take advantage of RP4K's free trial lessons, so your child can sample a session to see if they like it before signing up for more.
2. Design Holiday Cards
Exchanging holiday cards is a decades-old custom. Emails make deliveries more straightforward, but young, eager coders can take things to another level by using their skills to create impressive digital holiday cards.
There are graphic design software children can use to create custom cards they can share widely and easily. It's common to feel a more visceral connection to tangible cards received in the mail, as people receive emails every day, and they seldom feel as special as something you can hold in your hand.
Sharing a next-level, customized holiday card online will help elevate the digital experience and make the recipient feel special. That's what the holidays are all about.
3. Track Santa Claus Using Code
Google can track just about anybody these days, including Santa Claus! Every holiday season, Google offers family-friendly coding activities for kids of all ages. Their drag-and-drop block coding interface's engaging graphics help make learning to program fun for all levels of experience.
Throughout December, Google adds new holiday-themed activities that culminate in tracking Santa on Christmas Eve. The difficulty level increases as you advance.
Other festive games along the way, including making elves dance and more. Look "under the hood" to see what the JavaScript version of the raw code looks like. RP4K teaches children real coding languages used to build the websites, apps, and video games used by millions every day, like Java, JavaScript, C#, and C++. We teach programming for kids in a way that's always fun but also directly imparts the STEM skills necessary to succeed in tech jobs and transferrable skills useful to a wide range of industries.
Our online classes always have a maximum of four students per teacher, so kids don't need to compete with their classmates to get their teacher's attention. If your child has questions about using a coding language or how to locate Santa on Christmas, our teachers are always ready to help.
4. Build a Holiday-Themed Adventure Game
RP4K puts video games in the centre of what we do. Not only do our students learn to create their own video games they can play and share with friends and family, but we use gamification in our lessons to keep students motivated and driven to succeed.
Even kids as young as six can use their imagination to create a video game in Python for the holidays. Maybe Santa is lost and needs directions to the North Pole so kids can get their presents! Perhaps his reindeer got separated somehow and need to be reunited before Christmas Eve.
These coding apps for kids help develop a few rudimentary coding concepts, like the print and inputs commands and some basic conditionals, so they'll have all the tools they need.
5. Seasonal Binary Necklaces
Kids can use coding concepts to make signature, seasonal jewellery by taking a creative approach. Children make necklaces spelling their name in binary code — the series of ones and zeroes whose sequence corresponds to letters and commands using a code chart.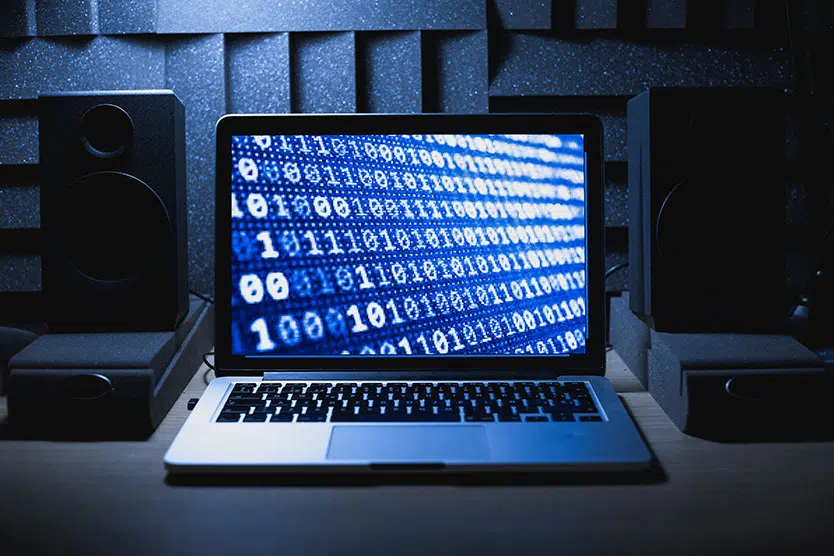 All they need to do is find beads using two seasonal colours, like blue and white or green and red. Make one colour represent the ones, the other the zeroes. After the child has written out their name in binary code, they'll thread the beads onto the string in that order.
They can proudly wear their necklace when it's time to unwrap presents or give them out as personalized gifts for someone else to find under the tree. RP4K's lessons teach kids to think methodically like an engineer and openly, with a creative mind.
Our online computer courses for kids teach that mistakes are an inevitable part of the learning process, not something to beat yourself up over. Such an attitude leads to valuing mistakes to refine and improve the creative process, rather than letting errors undermine one's self-esteem and hinder productivity.
A healthy regard for the creative process helps children when it's time to code video games, tackle math problems, or create binary necklaces.
The holiday season is a magical time where families and friends experience slow time together. Keeping the above tips in mind, you can integrate coding skills into enjoying the festive spirit. In the lead-up to Christmas and New Year's Eve, keep your STEM skills sharp and stay busy from home. Kids can share these seasonal ideas with their friends and family. To have fun online learning more about code, sign up for classes with RP4K today.