With summer just around the corner you might be thinking about what sort of things your kids will be doing to occupy their time during the summer break. Many parents consider sending their kids to summer camp programs where they can learn new skills or participate in a physical activity that encourages teamwork and improves motor skills.
This is great for kids who are interested in the outdoors, sports, or arts, but what if your kid is a bit of a video game enthusiast who would rather spend their time indoors playing games? You may be struggling to think of what you can do to get them out of the house and participating in some sort of summer program.
Real Programming 4 Kids Has the Answer
Well, there is a solution: Real Programming 4 Kids. We teach online coding for kids ages 7 to 18 in a fun learning environment where they will learn hands-on coding skills while programming video games from scratch. Our classes are great for kids who love to play video games and want to know more about video game development.
There are also children in our classes who are simply interested in computer technology and learning how to code. Even they enjoy our courses because there is value in learning how to practically apply coding skills in a fun and creative way. By creating a video game our students are able to directly see the product of their coding skills and are given the opportunity to experiment and learn from trial and error.
Class sizes at Real Programming 4 Kids are a maximum of four students and still run even if only one student is enrolled. This gives our instructors the opportunity to work with students one-on-one and tailor the teaching experience to the individual. Our instructors are post-secondary students or recent grads specializing in Computer Science or Computer Engineering, and they have been specially selected for their ability to teach and work with children.
We teach the best computer programming languages for kids including Visual Basic, Python, Java, C#, C++, and Unity. This is because they are considered industry-standard and can be applied practically in the real world.
Summer Coding Camps for Kids at RP4K
If you're looking for an enriching summer experience for your kids then you should look into signing them up for Canada's #1 computer camp for kids. If you sign up multiple kids together you can receive one of our Special Summer 2020 Group Discounts where all kids will be in the same time slot and class.
Group of 2: 10% Discount for each of 2 Students
Group of 3:5% Discount for each of 3 Students
Group of 4: 15% Discount for each of 4 Students
There are a number of benefits to summer coding camp for kids. Here are five reasons why you should sign your kids up for coding camp this summer.
1. Learn New Skills
Are you asking what can kids learn from video games and coding? You may be surprised to know that kids can learn other skills through coding. This means that not only will your children learn how to code during our summer camps, but they will also develop:
Critical Thinking: Coding takes careful analysis and learning how to think critically is valuable in other areas of schooling, and even everyday life.
Patience and Persistence: There's a lot of trial and error in learning how to code, and during this process students learn to press on despite challenges and learn from their failures.
Problem Solving Skills: Students often need to troubleshoot their code if problems arise, and often they will be required to think outside the box. Developing this skill is useful for all areas of learning and can be applied to pretty much anything.
Gain Confidence: As students overcome barriers and get better at programming, they will become more confident in their skills and their ability to do challenging tasks.
Math Skills: Math is a huge part of coding, and each of our courses is like a hidden math lesson. If your child is struggling with math, getting them to learn code is a sneaky way of getting them to develop their math skills in a fun environment.
Computational Thinking: As kids learn to solve complex problems they develop computational thinking skills. It's a thought process that involves pattern recognition and logically breaking problems down into parts and creating the steps needed in order to solve them.
Processing Skills: Learning a new language can help people develop better processing skills, and programming languages produce similar results.
Creativity: As our students learn how to code through video game development, they are given the opportunity to get creative and build a new world all on their own.
As you can see the list is long, and many of the skills developed during our classes have helped our students perform better at school.
2. Prevent Summer Learning Loss
Summer learning loss can occur during the summer period when kids are no longer being mentally engaged during the school year. Over time, their brain becomes lax and they forget many of the things that they learned. By the time they return to school when the summer is over, many of them experience a period of about a month where they perform poorly.
In order to avoid summer learning loss your kids will need to be mentally stimulated, and our summer coding classes are a great way to do this.
3. Make New Friends
Any summer camp experience is a perfect opportunity for kids to meet new people and make friends. But our coding classes for kids are unique in that our students usually all love to play video games and want to learn more about computer technology. This shared interest helps our students find other children that they can relate to and create solid friendships with.
4. Understand the World Better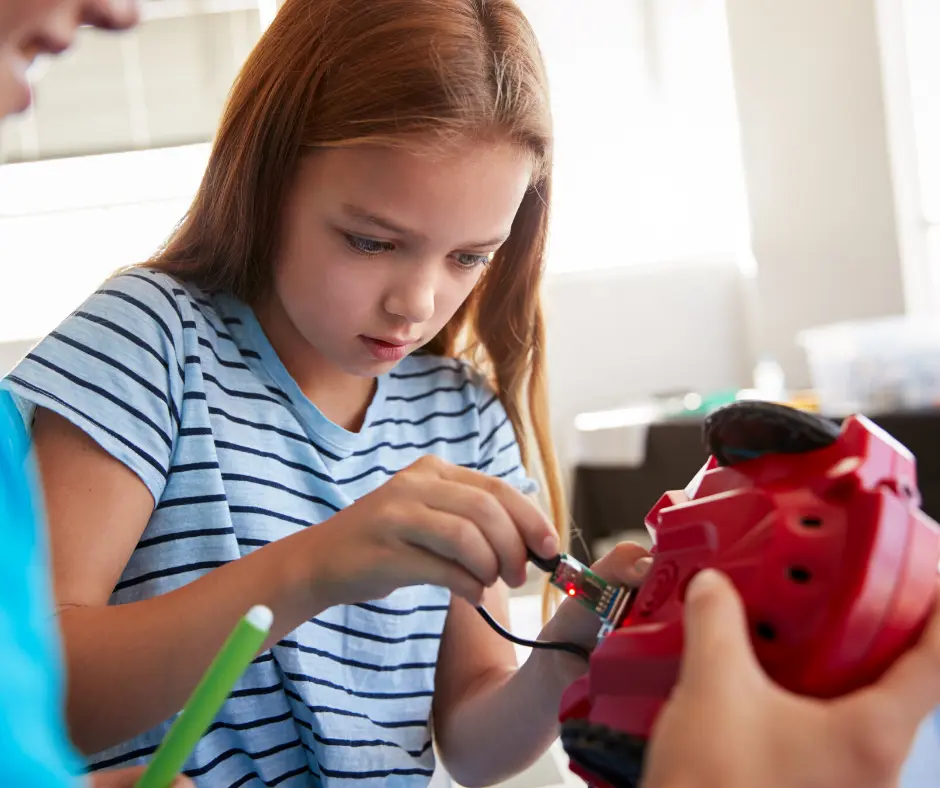 Our modern world uses technology in almost every aspect of our daily lives. From the remote control to your thermostat, to our smart phones and even TVs – they all involve computers in some way and those computers need to be programmed via code. Learning code gives children a unique opportunity to understand how our digital world works and make better sense of it.
5. Foundations for Future Careers
Learning code early is a great way to develop skill sets that can be used in the future towards desired career paths. Even if your kid decides that they don't want to become a Video Game Developer, App Developer, or Software Engineer, learning code will still be a benefit no matter the industry they choose to work in.
Not only is this because of the many skills they will pick up, but also because employers tend to be impressed when they see coding as a skill on a resume. Many see it as a useful skill to have that can be utilized in a number of different situations.
Sign Up Today
Summer is fast approaching but it's not too late to sign up for Real Programming 4 Kid's summer coding camps. You wouldn't want to miss this opportunity to get your kids to learn new invaluable skills that will help them now and in the future. With a number of locations to choose from including Toronto, Etobicoke, Mississauga, Ottawa, Oshawa, etc., you are sure to find one conveniently close by and we are confident that your children will enjoy their experience with us!