Summer camp is more than just a way to keep your kids occupied over the summer. It can be a chance to let them learn and develop skills that will help them succeed at school and even open up career opportunities as they get older. All that sounds great to parents who want to give their children every leg up in the world, but if you're going to get your kids on board, you know that it also has to be fun!
Computer programming classes for kids are the perfect fit. This summer, your child can learn computer programming online at a variety of different levels. Real Programming 4 Kids classes are designed for a wide range of ages and skill levels. We've moved our summer coding camp program online so that kids still have an opportunity to develop new skills and have fun learning how to code and make video games.
If you've never tried computer programming for kids online before, kids learn everything from the basics of coding a video game using a drag-and-drop program for young kids to the real programming languages used by industry professionals today.
Coding is a skill that's in high demand today and that will only grow in the future. There are tons of careers where coding is a valuable asset. But telling your child they can become a data administrator or a computer systems analyst might not get their interest. Instead, try letting them know about the coolest careers you can get into with coding skills.
1. Video Game Developer
Our coding classes in Toronto (and across Ontario) are the perfect primer for video game development. Kids learn to code by making video games, and along the way, they learn important fundamental math concepts behind visual objects interacting in those games.
There are a variety of different roles video game developers can take on:
Game design: coming up with the concepts, characters, and storylines that become video games; these roles are the most competitive in the industry.
Computer programming and software development: putting into practice the game designers' ideas; these are the people who create the code to turn design ideas into a real game. They can also take on tasks such as porting games over from one console to another.
Scriptwriting and technical writing: writing stories, dialogue, instructions, and descriptions that make up the game; successful game writers work with a team to craft stories that highlight game features and engage the player. A technical background in coding can be a big asset.
Video game testing: providing quality assurance, reporting bugs, and passing their findings onto developers; a great starter job in the gaming industry.
There are also a ton of jobs such as audio engineering, translating, and animating that don't require coding skills, but it never hurts to have a background in the technical aspects of video game design.
Video game developers work on all kinds of games, from PC games to consoles to mobile apps. There are so many different ways to specialize and different kinds of games to work on. The video game industry is massive. It's now bigger than both the movie and music industries combined.
2. Robotics Developer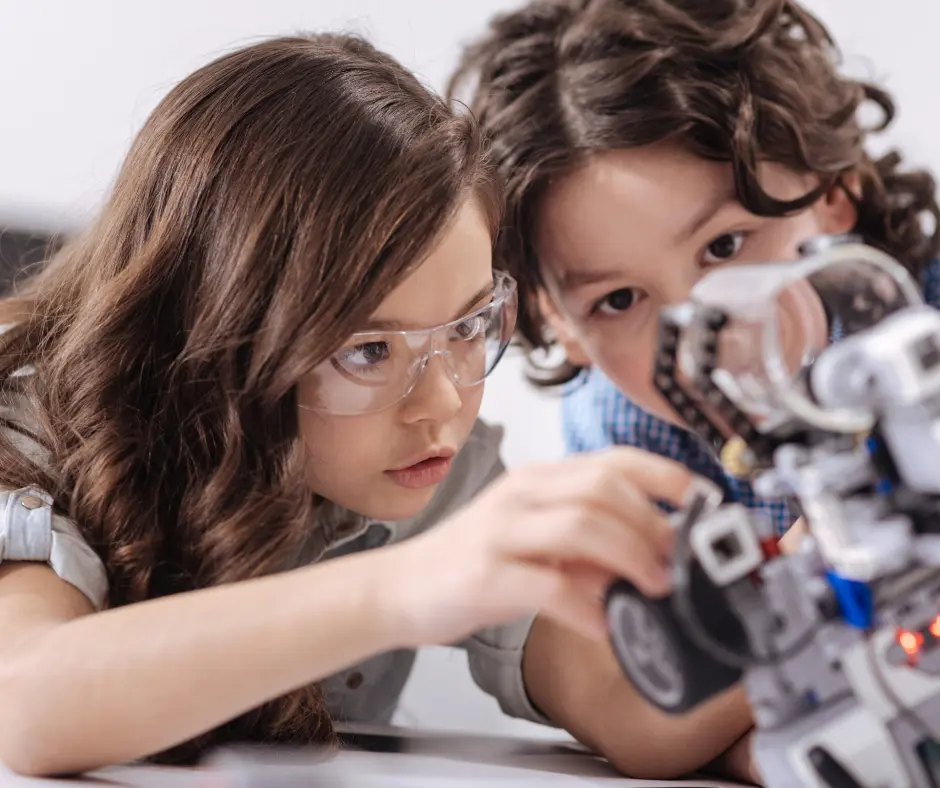 Want to get your kids excited about learning something over the summer? Tell them coding can give them the skills they need to make robots someday. To get a robot to do what you want, you need programming. Robots operate through a combination of sensors and programming that allows them to respond accordingly to the environments they sense.
Robotics are rapidly changing the world. Not only is automation changing the game in industries like manufacturing and agriculture, they're being used in all kinds of applications. Robots are essential to deep water and space exploration. They're being used in assistive technology helping people with disabilities live independently, and in search and rescue operations saving people's lives. It's all thanks to computer programmers.
The two main coding languages used in robotics are Python and C++, both languages taught in our online coding courses. While our coding courses for kids are focused on video games, they provide a foundation in coding that will be useful in many different occupations in the future.
3. App Designer
As any kid glued to their smartphone will tell you, apps have changed the world. From social apps that keep people connected with their friends and family to mobile games and more, what apps can do is constantly evolving. Working in app design is something you can do with a startup, an established company, or do all on your own. Coding is a great skill to have for anyone who wants to start their own passion project or even turn it into a business.
Working in app design is a way to bring new ideas to life from niche tasks to hot new trends. The world's most popular mobile apps are made in coding languages kids can learn at coding camp. For example, the latest popular app TikTok was made with Java, a language kids start learning in our intermediate classes.
Whether they grow up to have an independent spirit or seek the security of a job with an established firm, app design is a great bet.
4. Graphic Designer
Graphic design is how you take artistic talent and creativity and turn it into a successful career in any number of fields. Today, graphic designers in marketing, web design, games, entertainment, and countless industries don't spend their days sketching. They use virtual tools to bring their visions to life. A background in coding opens up a whole new set of design jobs.
Coding isn't just numbers and math. It's also a creative outlet. As kids begin to see how they can use coding to make things happen on the screen, they'll learn that coding is just another creative tool like a paintbrush or a pencil.
More Careers in Coding
There are more careers where coding is a valuable asset, those are just the most exciting – and most likely to get your kids interested in taking summer courses. Coding is also a skill used by engineers, scientists, IT professionals who can work in any number of industries, web developments, and arts and design.
Past RP4K students have gone on to do great things in many industries. Some have gone on to study engineering at the University of Waterloo, others have gone on to work at prominent game studios and software studios. Whether they pick up a personal passion or decide to base their careers around it, coding is a skill that opens up opportunities.
Learning How to Code in a Fun Environment
Want to try coding courses for kids out but not ready to commit? You can schedule a free assessment and trial, where one of our top instructors will show your child what's involved in learning how to code as they work on a real video game. This is also a chance for the instructor to learn what the best course would be to start.
Whether your child is in elementary school or a high schooler thinking about future careers, coding is a skill that will benefit them for a lifetime. You can keep your kids learning online this summer with fun and exciting courses. Courses are about 3 hours a day and are available either morning or afternoon.
We've been investing in software that makes online learning easier and more engaging. Maximum class sizes of four mean that our instructors have more time to work closely with your child and help them get the most out of summer coding camp. Get your child learning this summer in a fun and supportive environment!